KOHL INTERNATIONAL TEACHING AWARDS
For nearly a decade, the Kohl International Teaching Awards honored local and national elementary and high school teachers as well as media and lifetime contributors to the field of education.
A catalyst for excellence in education from preschool to adult learners, the Foundation continues to operate innovative education and arts programs in the United States and abroad.
Awards, 1985-1994:
Kohl International Teaching Award
Kohl International Peace Prize
Lifetime Achievement Award
Kohl Media Award
Kohl International Education Award
Kohl Corporate Award

View a list of recipients by year from the menu on the right.
PROGRAMS
William Hurt, Charles M. Schulz, Oprah Winfrey, and Dr. Shinichi Suzuki are just some of the luminaries who received our Media and Lifetime Achievement Awards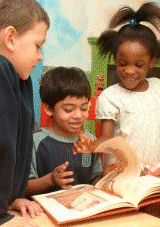 The Dolores Kohl Education

Foundation supports the

development of early literacy

skills through innovative

programs.