THE FOUNDATION
With the goal of enhancing children's learning through experiential, innovative programming, the Dolores Kohl Education Foundation was launched in 1974. As a private international operating foundation, it creates and directs new paradigms for children's learning.
FOUNDATION PROGRAMS
THE PRESIDENT
Dolores Kohl, Chair and President: Inherited a spirit of giving and helping others from her Jewish immigrant parents, Max and Mary Kohl. Launching the Foundation in 1974, she brought all her resources — money, yes, but new thinking, connections, and her teaching background — to take an active, full-time role, going beyond making grants to running Foundation projects. She collaborates with educators all over the world, including members of the Foundation advisory board.
PROGRAMS
William Hurt, Charles M. Schulz, Oprah Winfrey, and Dr. Shinichi Suzuki are just some of the luminaries who received our Media and Lifetime Achievement Awards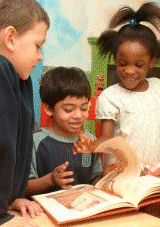 The Dolores Kohl Education

Foundation supports the

development of early literacy

skills through innovative

programs.